If you already own a trampoline, you might be looking for something to get your kids engaged on the trampoline again. Or maybe you have just bought a new trampoline for your backyard and want to include a basketball hoop as well. Maybe you are wondering how to put a basketball hoop on a trampoline. Well, if any of those apply, then you are in the right place.
I have spent hours analyzing all of the different types of basketball hoops for trampolines and put all of my findings into this guide. Depending on your brand of trampoline, you are going to want to consider specific models, which I have outlined below.
If you happen to have stumbled onto this page and are looking for the best trampoline with a basketball hoop, then I would suggest this one with this hoop. It offers a premium trampoline that is going to last you years for your investment. It is the exact combination that we own and use daily.
If you have a limited budget for a trampoline with a basketball hoop, then go with this one.
Best Basketball Hoop for a Trampoline Comparison Chart for 2023
Why Buy a Basketball Hoop for your Trampoline?
Basketball hoops for trampolines are one of the top-selling trampoline accessories for good reason. They add a new element of entertainment for trampoline users. While safety rules always suggest one user at a time, whether you are by yourself or playing one on one with a friend, a trampoline basketball hoop is a great gift idea for those who already have a trampoline.
Skywalker Basketball Hoop for Trampolines
If you have a Skywalker trampoline, then this trampoline basketball hoop attachment is for you! It fits most Skywalker models and is adjustable meaning it could also fit other types of trampolines, depending on the pole setup. While this is a fun accessory, it is apparent that it is not very sturdy, but it still offers lots of fun for kids. It comes with a foam ball as well. It is perfect for the preschool / school aged kids but may leave older kids wanting more.
*** CLICK HERE TO CHECK PRICE FROM AMAZON
*** CLICK HERE TO CHECK PRICE FROM WALMART ONLINE
Springfree Flexrhoop Basketball Hoop for Trampolines
If you are like me and have a Springfree Trampoline, you are going to want one of these basketball hoops! This hoop is sturdy, can hold up through the snow and strong winds, and will continue working like new! A full sized volleyball-like basketball is included with the trampoline basketball hoop offering the opportunity to practice real shots. While Springfree is known for its 10-year warranty, this accessory only carries a one-year warranty.
I personally own this trampoline and the basketball hoop accessory and after 3 years, it still works perfectly (we have had to replace the ball once though as it got eaten by the dog). In the winter we had over 6 inches of snow on the top of the basketball hoop and as soon as it was removed, the hoop bounced back to its vertical shape.
Because of the unique nature of the Springfree brand, this trampoline basketball hoop will not work on other models.
If you are on the hunt for a Springfree Trampoline, check out my Springfree Trampoline Review where I go into plenty more details about the brand and the quality products they make!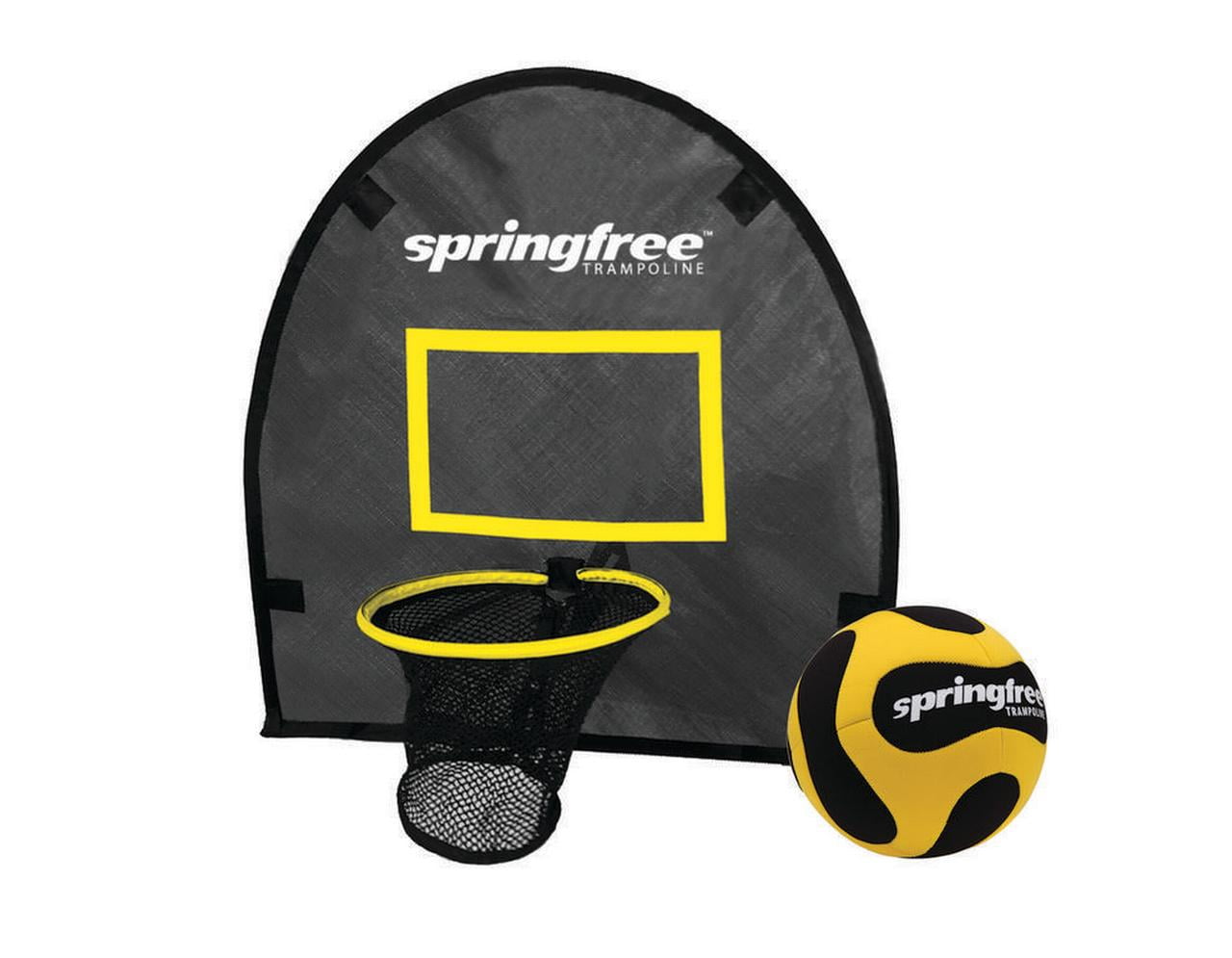 ** CLICK HERE TO BUY ON Walmart.com
** CLICK HERE TO CHECK PRICE ON AMAZON
Jump Slammer Basketball Hoop for Trampoline
The Jump Slammer basketball hoop is designed to fit most trampolines that have enclosure poles with a diameter smaller than 1.5″. It has a flexible rim that moves out of the way when it is hit (it has an 8.5″ diameter) and comes with a small foam ball. The ball is not the same size as a typical basketball, it is a mini ball. Keep that in mind. One of the nice things that Jump Slammer has done is designed an airball net, so if you miss the backboard, the ball still stays in play if it hits the net. Another plus to Jump Slammer is its customer service and warranty.
The feedback online indicated that this basketball goal for trampolines fits with Zupapa and Skywalker brands. It does not fit with Springfree (you need to choose the Springfree one above if you own one).
CLICK HERE TO CHECK PRICE ONLINE
Propel Jump and Jam Basketball Net for Trampoline
The Propel Jump and Jam basketball net is designed for Propel and Kinetic brand trampolines. If you own one of these brands, then this trampoline basketball net is for you. It has a 10″ spring-back rim and comes with a ball and pump. It is designed with extra netting to prevent air balls from going outside the trampoline enclosure. The reviews online are quite mixed, but the investment cost of this basketball net is quite low. Keep that in mind when decided which is the best basketball hoop for your trampoline.
CLICK HERE TO CHECK PRICE ONLINE
Jumpking Basketball Hoop for Trampoline
The JumpKing Trampoline Basketball Hoop has a solid backboard and is designed to fit many brands of trampolines. It has a padded safety rim and net. It uses U bold fasteners to attach to existing trampoline poles, whether straight or curved. This trampoline basketball hoop comes with an inflatable 6inch basketball.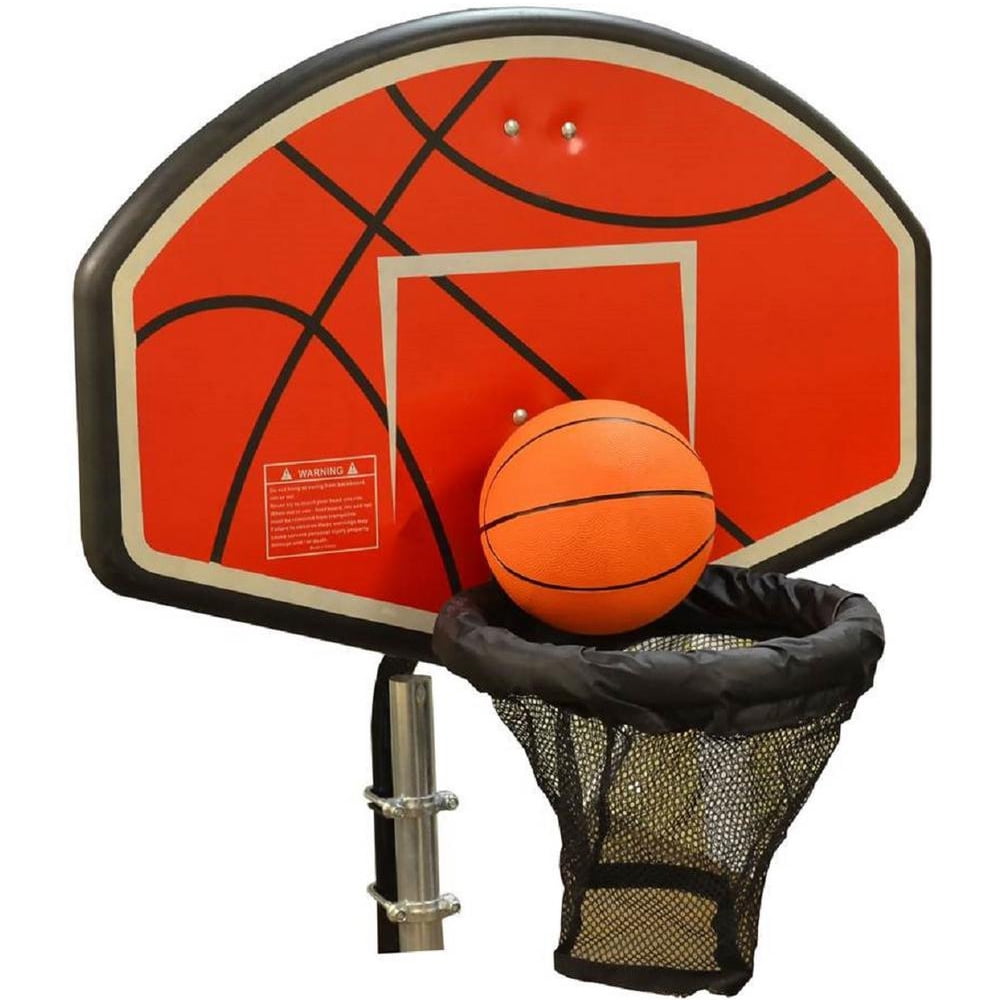 ** CLICK HERE TO CHECK PRICE FROM Walmart.com
** CLICK HERE TO CHECK PRICE ON AMAZON
Jumpsport Proflex Trampoline Basketball Hoops
The Jumpsport Proflex trampoline basketball hoop is designed for the JumpSport Classic, JumpSport Elite, and AlleyOOP Trampolines that you may already own. It features a solid backboard and an 11inch rim. A 5″ basketball is included with the basketball hoop.
Universal B
asketball Attachment for Trampoline
This Universal basketball hoop attachment is designed to fit multiple brands of trampolines. It fits on trampoline enclosures that use straight, arched or curved poles. Unlike many other brands, this trampoline basketball hoop has a solid rim, instead of a soft rebounder rim. It also has a solid backboard measuring approximately 29.5 inches [75cm] wide x 19.5 inches [50cm] high. It will not fit on Vuly, Springfree os springless model trampoline enclosure systems.
** CLICK HERE TO CHECK PRICE ON AMAZON
Skywalker Double Hoop
The double basketball hoop from Skywalker is perfect for those who want a little competition on their trampoline. There is one for the 15 foot trampoline and one for the 12 foot, so check the sizes before you checkout!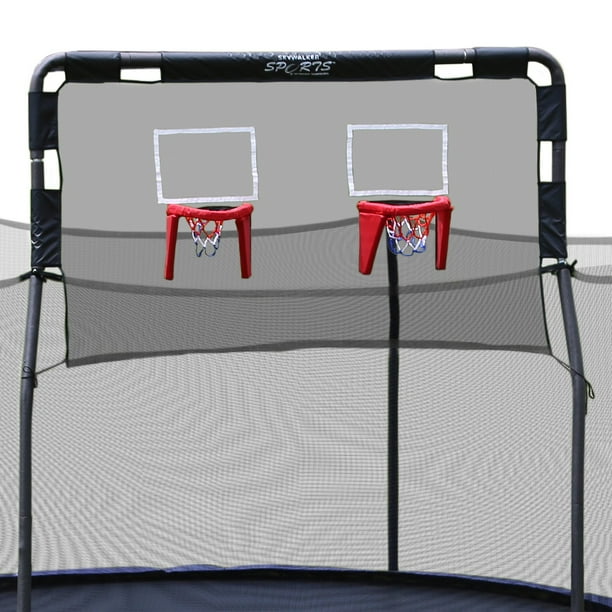 CLICK TO CHECK PRICE ONLINE FROM WALMART.
Replacement Trampoline Basketballs
If you are looking to quickly purchase replacement basketballs there are a few options. You can get the 5″ foam balls here. If you want the inflatable 5″ basketballs, you can get a three pack here.
If you are looking to replace the ball used by Springfree, we went with one like this.
FURTHER READING:
Popular Trampoline Party Favors